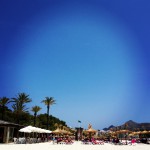 De zomer is in volle gang, maar de vakantie zit er voor mij al op. Althans: de trip naar het buitenland die bij een gangbare zomer hoort. Een week op het strand, in het zwembad en op het terras waren weer louterend. Ik heb dat vaker.
Op enig moment gebeurt het tijdens zo'n vakantie. Het kan twee dagen duren of vier, afhankelijk van de mate van stress of drukte die je mee het vliegtuig in hebt genomen, maar het gebeurt. Je zit of ligt op het strand, te lezen in een goed boek of te turen naar de blauwe zee, en er waait iets naar binnen. Iets dat in eerste instantie niet te definiëren is. Het is hetzelfde gevoel als wanneer je een idee krijgt. Alleen wordt het (nog?) niet concreet. Maar je voelt als het ware de ruimte ontstaan in je hoofd waarin positieve impulsen weer de kans krijgen, waarin oplossingen voor problemen kunnen rijpen en waarin de zin besloten ligt om dingen aan te pakken. Het is een heerlijk gevoel. Ik noem het inspiratie. En je kunt het zó goed gebruiken als je weer thuis bent!
Ik zal vast niet de enige zijn die dit ervaart. Het lijkt me ook een van de nuttigste resultaten van vakantie vieren, zeker ook voor je zakelijke activiteiten. Het is alleen zo jammer dat er een vakantie aan te pas moet komen om je hiervan bewust te zijn. Inspiratie zou van alledag moeten zijn, en dus wil ik er steeds weer waakzaam op zijn die ontspanningsmomenten ook gedurende het jaar in te bouwen. Niet om gerechtvaardigd te kunnen te lanterfanten, maar om de inzichten toe te laten die me succesvol maken in wat ik doe.
Ik wens het iedereen toe: een inspirerende zomer 2013!