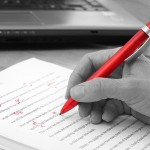 Schrijven is een van de dingen die ik het liefste doe. Dat heb ik altijd al gehad, en twee boeken van mijn hand (Jacob bij zijn Oma en Tour-Fans) bewijzen dat. Verder heb ik al een lading liedteksten, artikelen en voorstellen geschreven. De juiste woorden vinden, goed lopende zinnen maken, knutselen aan de opbouw van een tekst: ik vind het heerlijk. Ik ben dan ook vrij gespitst op taal in de uitingen die ik voorbij zie komen. En ik zie twee trends: teksten worden fouter en korter.
Fouter
Eerst de fouten. Vlekkeloos Nederlands wordt steeds zeldzamer. Een kromme zin, spelfouten, en voorál de d's en t's, ik zie het nogal eens in artikelen en tweets of op websites. Siem de Jong twittert dat Ajax tegen Barcelona 'een doelpunt had verdient'. Iemand deelt op Facebook een artikel over het Finse onderwijs en heeft het in de reactie over 'de peilers' van dat onderwijs. En dan zwijg ik nog even over menig artikel in het ED.
Als zelfverklaard taalpurist zeg ik er soms wel eens iets van. Soms zijn ze er blij mee, zoals enkele mede-ondernemers die het belang van goed taalgebruik inzien en mij vervolgens vragen hun hele website maar eens te controleren en corrigeren. Maar de meeste mensen zijn een stuk onverschilliger. 'Och ja, da's fout. Maar dat vind ik ook zó moeilijk! Nou ja, iedereen weet toch wat ik bedoel?' Dat zal wel kloppen, ja. En omdat dit argument nogal vaak wordt uitgewisseld lijkt een fout eerder standaard te worden.
Korter
Teksten worden ook korter. Logisch, gezien de snelheid van de hedendaagse media, soms zelfs letterlijk beperkt in het aantal tekens zoals op Twitter. In tienerland, waar ik tegenwoordig iets meer van meemaak dan voorheen, lijkt het gebruikelijk om één zin in vier Whatsappjes te versturen. Duurt het namelijk te lang, dan wordt de andere kant ongeduldig (starend naar de melding 'aan het typen….'), stuurt hij of zij maar weer een nieuw bericht en voor je het weet ben je een warrig gesprek aan het voeren. Of erger: is hij of zij alweer met een ander aan het buurten. Laatst hoorde ik een elfjarige zeggen: "Soms doe ik als ik een vraag typ nog een laatste appje met alleen het vraagteken. Dat vind ik grappig." Dat had je een paar jaar geleden nog niet, toen je per sms'je moest betalen.
En dit sijpelt dus ook door in de communicatie tussen volwassenen. Ultrakorte e-mails zijn aan de orde van de dag. En niet alleen bij niemendalletjes, ook bij zakelijk verkeer. "Ik kan de werkzaamheden uitvoeren voor 550 ex. BTW. Gr. Henk." Geen aanhef, geen aanleiding, geen verdere toelichting. Heel opvallend vind ik dat. Maar goed, ikzelf sla dan ook soms weer door. Ellenlange mails heb ik geschreven, met alle nuances en beleefdheden erin verwerkt. Dat is soms teveel van het goede. Ik probeer zelf dus ook korter te zijn, en dat is eigenlijk ook leuker omdat het je nog meer dwingt om goed over je woorden na te denken.
Hoe schrijven we straks?
Precies 100 jaar geleden stond in de Groene Amsterdammer te lezen: De tijd dat ik den tijd vond onder te duiken in het paperassen-moeras, dat in onze hoofdstad Gemeenterekening en Begrooting samen beteekenen, ligt achter me. Maar ik stel er daarom natuurlijk nog wel belang in, en zoo kan ik moeilijk den lust bedwingen, een paar kanttekeningen te maken bij het jongste artikel van den heer van Renesse hierover. Ik wil er maar mee zeggen: de taal verandert altijd. We moeten dus misschien niet over taalfouten spreken maar over taaltrends. Wie heeft het over 20 jaar nog over een korte ei of lange ij, of over zinnen die langer zijn dan 140 tekens? Hoe schrijven we straks? Strax? Taal leeft, en ik volg het met interesse, verbazing en genoegen. Alhoewel, die d's en t's…. dat blijft toch wel echt irritant hoor! 🙂
En nu maar hopen dat ik geen taaltrends heb gemaakt in dit bericht…..